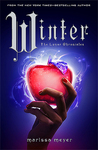 Princess Winter is admired by the Lunar people for her grace and kindness, and despite the scars that mar her face, her beauty is said to be even more breathtaking than that of her stepmother, Queen Levana. Winter despises her stepmother, and knows Levana won't approve of her feelings for her childhood friend—the handsome palace guard, Jacin. But Winter isn't as weak as Levana believes her to be and she's been undermining her stepmother's wishes for years. Together with the cyborg mechanic, Cinder, and her allies, Winter might even have the power to launch a revolution and win a war that's been raging for far too long.
Winter
by
Marissa Meyer
My rating:
2 of 5 stars
This would have been a lot better at about half the length. The same things kept happening over and over, except with different characters. And constant descriptions about what everyone was wearing and how they looked. And having four different romantic couples was a bit much. And the bad guys were hilariously incompetent.
If you loved the series to begin with, you'll probably love the ending. But if, like me, you're just reading to see how it all ends, you'll probably be annoyed and a bit bored.
View all my reviews