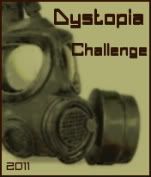 I've found that I really like dystopian fiction. There's something about reading just how crappy the world could be to make you appreciate what you have. So, here's another challenge I've decided to join. This one shouldn't be too difficult for me either. Here are the challenge levels, and I'm trying to decide which level to go with:
Challenge Levels
Asocial– Choose 5 books to read
Contagion – Choose 15 books to read
Soldier – Choose 30 books to read
Drone – Choose 50 books to read
Conditioned – Choose 75 books to read
For extra hard challenges
Brainwashed – Choose 76-125 books to read
Totalitarian – Choose 126-200 books to read
I don't want to get in over my head, so I think I'll pick the Asocial category, even though that doesn't make me sound very cool. :) I'm not sure what I'll read, but I'll probably decide as I go. If you'd like to participate, click on the picture at the top of this post and go sign up. As always, comment here and let me know if you're participating so I can visit and follow your blog.