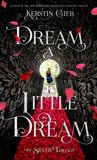 Dream a Little Dream
by
Kerstin Gier
My rating:
3 of 5 stars
Publication date: April 2015 (English translation)
Source: Netgalley review copy
This was a decent book to read for entertainment value. I was never really bored except for maybe the first couple of chapters were slow going. The characters were interesting enough.
I guess the biggest problem I had with the book was that it felt like there was no plot. It never really got going, and then all of a sudden the story was over. I don't know if I'll read the next in the series.
View all my reviews